Baylor Takes Control with Win over OU
Baylor Takes Control with Win over OU
Action from Saturday. Baylor in green and white, OU in red and white. Nathan Trampe photo.
Baylor downed Oklahoma 27-10 this weekend to take control of the Red River Conference North, moving to 6-1.
The Bears fell behind 10-0 early in the game thanks in part to OU wing Phillip Rice's try. And it stayed that way until just before halftime, when Parker Vincent slotted a penalty goal. Right on the stroke of halftime, center Jeffrey Scott scored a try, and Vincent converted to tie the game. It remained tied until midway through the second half when OU flanker Luis Nunez was yellow-carded. Up a player, Baylor quickly took advantage, with No. 8 Pete Hamm scoring and Vincent converting. Three minutes later sub back Abu Kamara raced in from long range, and Kamara added another long-range try late in the game to seal it at 28-10.
Jeffrey Scott on his way to scoring Baylor's first try of the day. Nathan Trampe photo.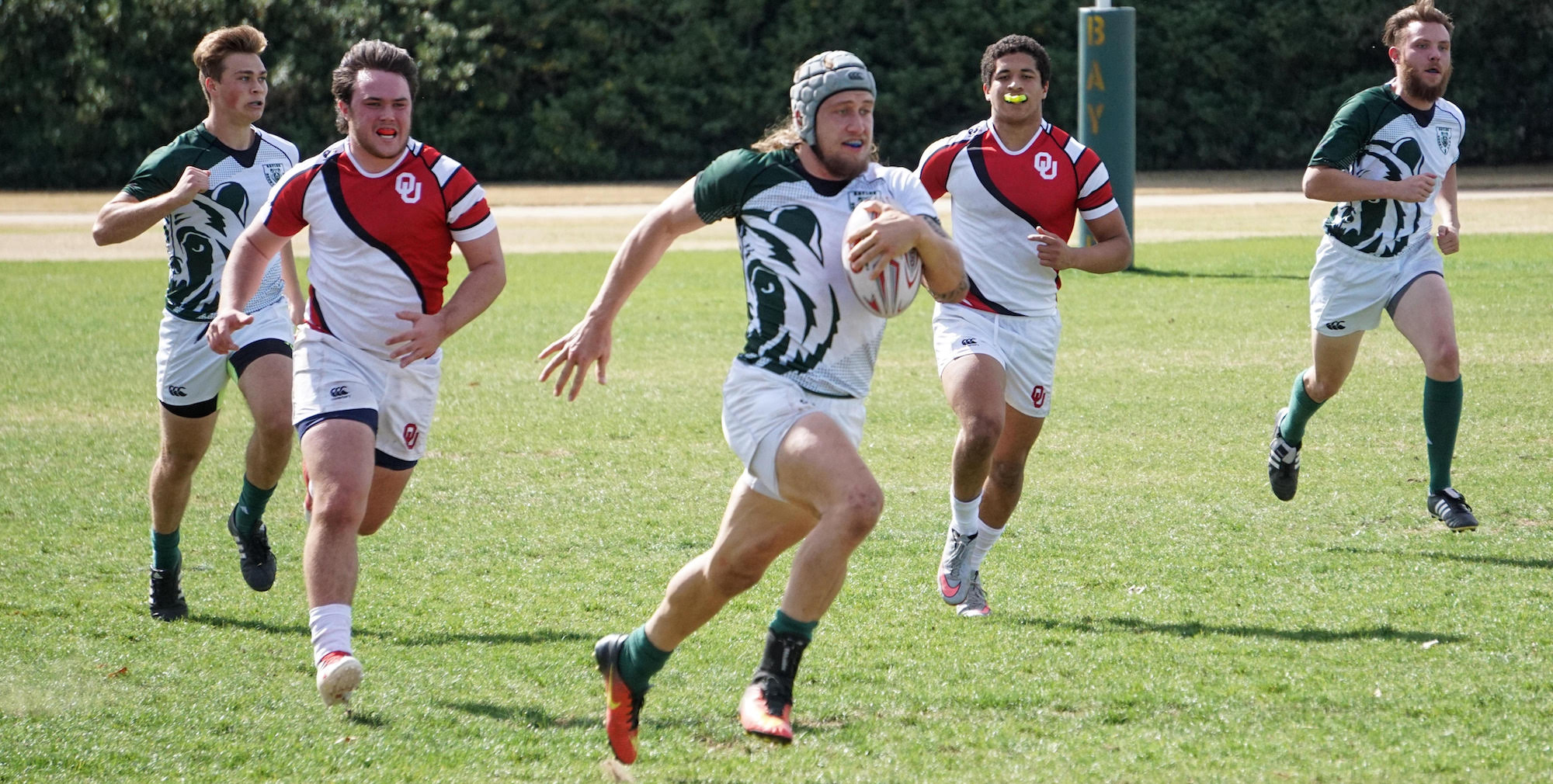 "The difference I feel was our effort and intensity," said Baylor Coach Mason Hering." We wanted it more than OU. Our defense has been strong all year but in the last few contests we've gotten more confident in our attack which is really allowing us to control most of the match. Our attack has improved tremendously this spring. The boys are starting to recognize the space and how to attack it."
Hering credited Kamara, who came on early in the second half, with jump-starting his team. Just a sophomore who is still learning the game, Kamara was important on attack and also contributed some key tackles. Scott continued his excellent form, and Hamm was a leader.
"Each in their own right led our attack which allowed us to playing fast-paced, attacking rugby," said Hering.
Tied at halftime, Baylor had been shooting themselves in the foot, said Hering.
"They gave us plenty of mistakes to capitalize on but we would give it right back to them with our own mistakes," he said. "Some of the guys were just trying to do to much. At halftime we talked about staying calm and executing the little things right. I just asked the boys to focus on seizing the moment and they did that in a big way."
The Baylor Bears rugby team as a whole rightfully has a chip on their shoulder, thinking they have been overlooked and not received the credit they deserve for their 6-1 conference record.
"That disrespect just fuels us even more," said Hering. "With each win we're proving the doubters wrong and gaining confidence. This isn't luck, this is hard work. We are a darn good team that people should watch out for."