Atlantis Collegiates Win NY 7s College Bracket
Atlantis Collegiates Win NY 7s College Bracket
The Atlantis Men's College team won the New York 7s College Bracket this past weekend at Randall's Island.
Top pic, Stony Brook and UConn also showed well at the Y 7s. Bottom pic, coaching legends Jerry Mirro (Stony Brook), and Emil Signed (overall Atlantis Jefe) share observations. Adam Smith photos.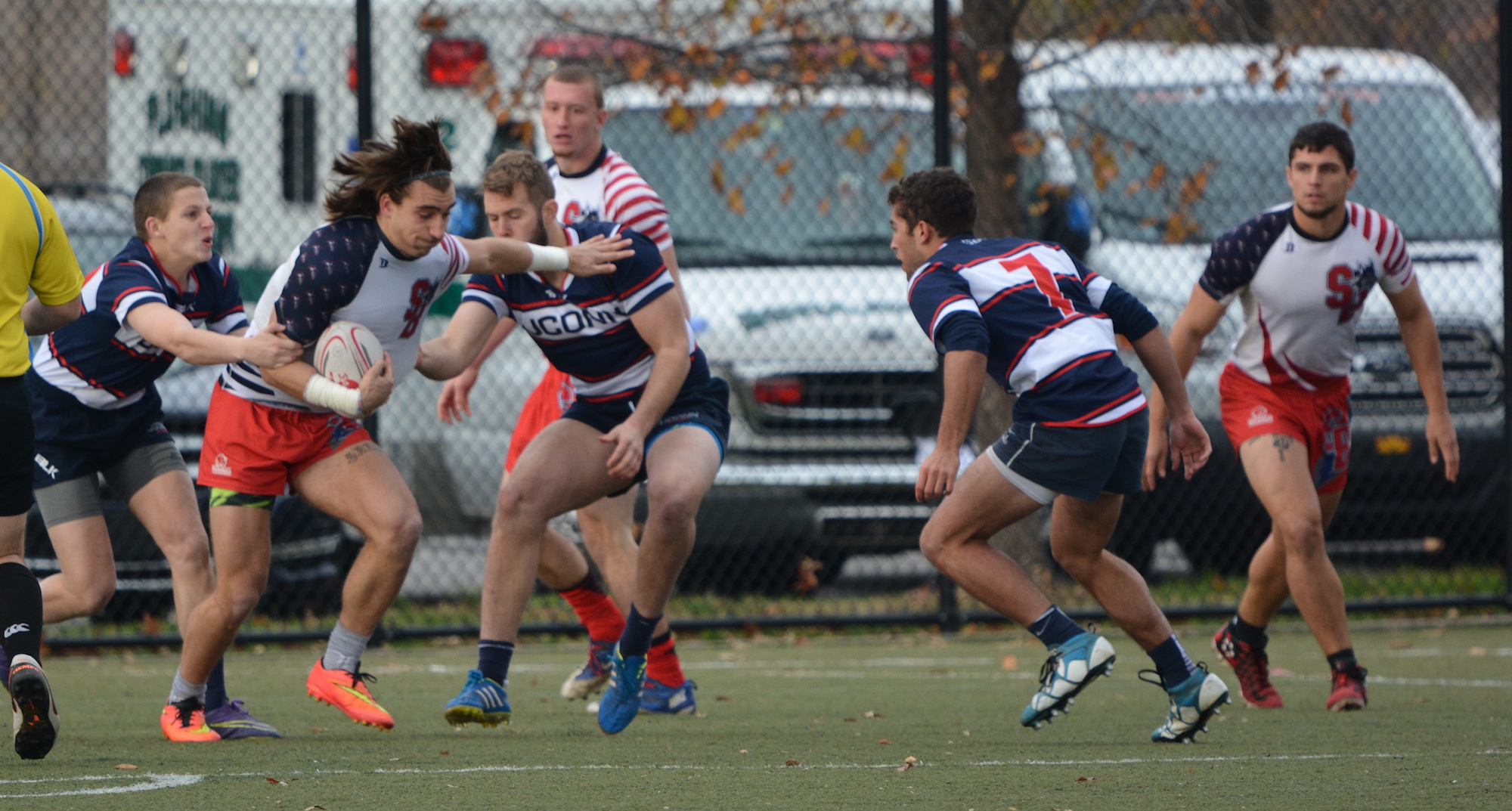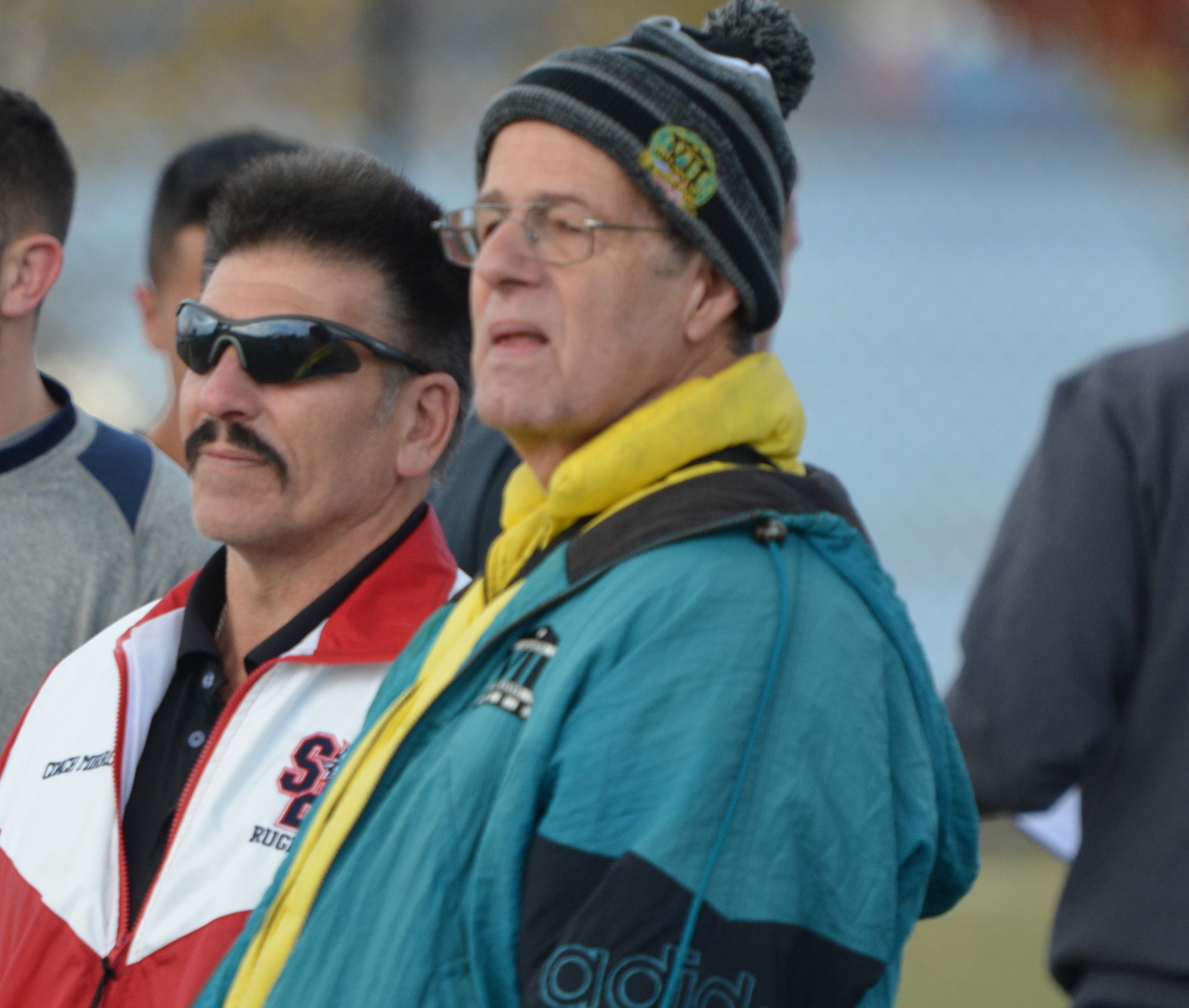 The team, made up of players from several college programs around the country, was coached by Joe Kelly, as well as injured Penn State player Joe Kelly Jr., and Omar Rivera. Not surprisingly, several athletes who played for the senior Kelly at Greenwich HS came back to suit up for their old coach. Eight former Greenwich players, plus two Play Rugby USA alumni, and former players from Ridge Rugby and Fairfield Prep, made up the team.
These players have played with and against each other for years.
Atlantis came together on the day and had to figure out how to make a team out of 12 players from 12 different schools. The first game was against New Blue, and the Atlantis squad started out looking as if they'd been practicing for days beforehand. A nicely unified performance saw Atlantis win 36-5. 
The next game was Mitchell College where the players started really working together with a 55-0 victory. The final pool game brought a well trained Stony Brook 2nd team, but Atlantis was on a roll at that point and won 50-0.
In the semifinals, Atlantis took on the well-regarded McGill University out of Montreal. No problem there, as Atlantis won 31-5. So then it was a final against a solid Stony Brook 1st team. Stony Brook won their pool games 38-0 over King's College, 21-5 over UConn, and 22-0 over McGill. In the semis, the Seawolves slammed Bew Blue 27-5. 
So on to the final, with Jerry Mirro's Stony Brook team just a week from their last 15s game, and Kelly's Atlantis team still coming together. In the closest game for both teams, Atlantis pulled away late to win 24-12.
New Blue took 3rd (the Plate) over McGill. Connecticut took the Bowl over King's College 31-0.  
Men's College scores, 2016 NY 7s

| | | | | |
| --- | --- | --- | --- | --- |
| B | McGill | 24 | UCONN | 7 |
| B | Stony Brook I | 38 | King's College | 0 |
| A | Stony Brook II | 10 | Mitchell College | 15 |
| A | Atlantis | 36 | New Blue | 5 |
| B | McGill | 38 | King's College | 0 |
| B | Stony Brook I | 21 | UCONN | 5 |
| A | Stony Brook II | 5 | New Blue | 19 |
| A | Atlantis | 55 | Mitchell College | 0 |
| B | King's College | 7 | UCONN | 31 |
| B | Stony Brook I | 22 | McGill | 0 |
| A | Mitchell College | 0 | New Blue | 45 |
| A | Atlantis | 50 | Stony Brook II | 0 |
| BOWL SEMI | Mitchell College | 0 | King's College | 15 |
| BOWL SEMI | Stony Brook II | 5 | UCONN | 29 |
| CUP/PLATE SEMI | Atlantis | 31 | McGill | 5 |
| CUP/PLATE SEMI | New Blue | 5 | Stony Brook I | 27 |
| BOWL FINAL | UCONN | 31 | King's College | 0 |
| PLATE FINAL | New Blue | 21 | McGill | 17 |
| CUP FINAL | Atlantis | 24 | Stony Brook I | 12 |
Atlantis Roster
Greg McTiernan – St Joes
Rob Irimescu – Penn State
Erik Tack – Maryland 
Luke Bienstock – Dartmouth
Gardy Lebon – Navy
Ryan Hercules – Life
Jack Weigold – Cal
Bryce Stanback – Iona
Jack de Pootere – Providence 
Kamari Charles – NY College of Tech
Soh Nakayama – Kaio U Tokyo
Scott Atkinson – Ohio St