Around Rugby Texas Latest
Around Rugby Texas Latest
St. Thomas v Memorial - Clay Reidy moves forward with Sam Yeboa in support. Jordan Maat photo.
Rugby Texas had a relatively quiet weekend league-wise, but there were some interesting results nonetheless. 
We'll have more on Timber Creek's defeat of St. Pius X later. Woodlands hosted Aberdare from Wales, and beat the tourists 26-17. 
Top photo, Woodlands v Aberdare, Liz Gaunt Rayton photo. Bottom photo, Katy v Kingwood, Christina de Villiers photo.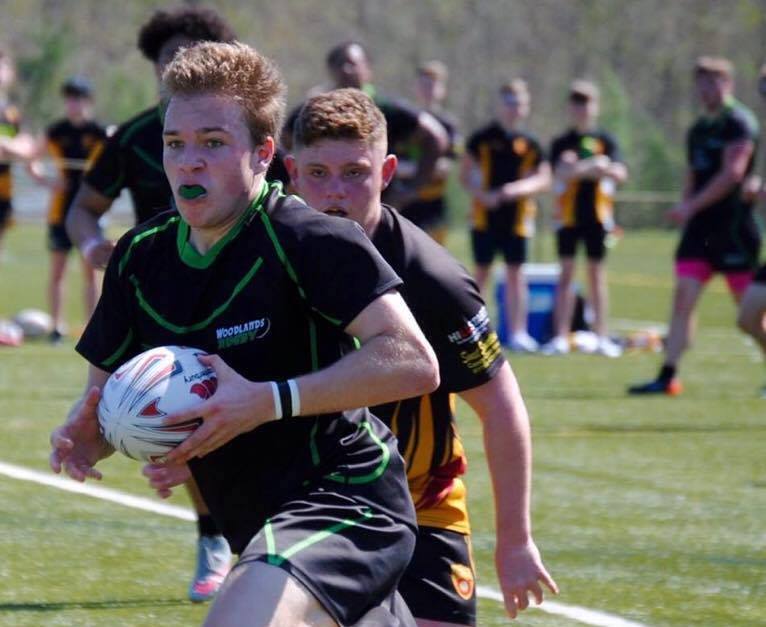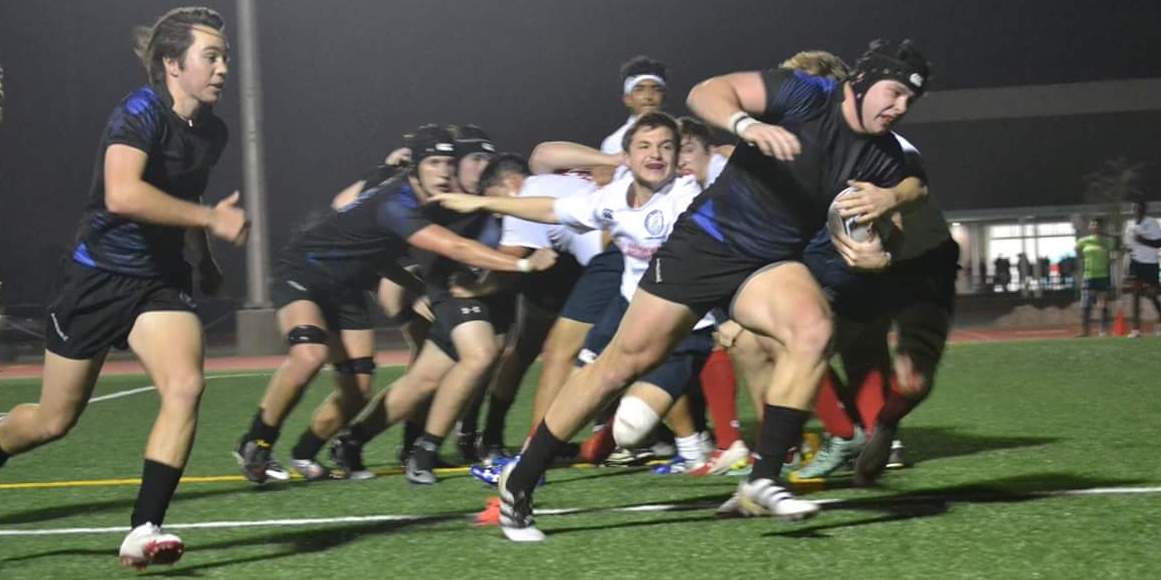 Allen continued their strong run of form with a 59-14 defeat of Rock Rugby and stayed in 1st in the Dallas Fort Worth conference.
Lake Travis beat Jesuit Dallas in a really good contest 24-8. That result allowed LT to keep pace in the Central with Westlake, which beat the Dallas Harlequins Colts 40-24.
In Houston West, Katy slammed Kingwood and Cy-Fair beat Lamar to close things up. They join St. Pius in the mix there.
And in Houston East, with Woodlands not playing a league game, St. Thomas v Memorial took on much importance for a shaken St. Thomas team.
St. Thomas put together an improved effort after last weeks tough loss to St. Pius X at home. Though not a polished or accurate effort, the Eagles scored eight tries in dispatching Memorial with relative ease, 48-5.
Standouts were Clay Reidy and Sam Yeboah in the forwards, Riley Bishop and Eli Young in the backs and Griffin Maat, who started at 13 and then moved to No. 8 to replace standout Michael Gentempo for the second half. Despite the loss, Memorial's outside center Cole Reinhart was very active around the field, put in some bone-jarring hits, and was an effective runner. 
Here are the updated Texas DI standings:
| | | | | | | | | | |
| --- | --- | --- | --- | --- | --- | --- | --- | --- | --- |
| Texas |   |   |   |   |   |   |   |   |   |
| Central | W | L | T | Pf | Pa | Pd | BT | BL | Pts |
| Lake Travis | 3 | 0 | 0 | 108 | 8 | 100 | 3 | 0 | 15 |
| Westlake | 3 | 0 | 0 | 124 | 29 | 95 | 3 | 0 | 15 |
| Rock Rugby | 0 | 3 | 0 | 19 | 171 | -152 | 0 | 0 | 0 |
| Four Points | 0 | 3 | 0 | 0 | 84 | -84 | 0 | 0 | 0 |
|   |   |   |   |   |   |   |   |   |   |
| DFW | W | L | T | Pf | Pa | Pd | BT | BL | Pts |
| Allen | 2 | 0 | 1 | 102 | 53 | 49 | 2 | 0 | 12 |
| Quins Colts | 1 | 2 | 0 | 70 | 83 | -13 | 2 | 1 | 7 |
| Plano | 1 | 2 | 0 | 55 | 38 | 17 | 1 | 1 | 6 |
| Jesuit Dallas | 1 | 1 | 1 | 39 | 53 | -14 | 0 | 0 | 6 |
|   |   |   |   |   |   |   |   |   |   |
| Houston West | W | L | T | Pf | Pa | Pd | BT | BL | Pts |
| Katy | 2 | 1 | 0 | 166 | 47 | 119 | 3 | 1 | 12 |
| St. Pius X | 2 | 0 | 0 | 70 | 0 | 70 | 2 | 0 | 10 |
| Cy Fair | 2 | 1 | 0 | 72 | 61 | 11 | 2 | 0 | 10 |
| Memorial | 1 | 1 | 0 | 36 | 40 | -4 | 1 | 0 | 5 |
|   |   |   |   |   |   |   |   |   |   |
| Houston East | W | L | T | Pf | Pa | Pd | BT | BL | Pts |
| The Woodlands | 2 | 0 | 0 | 64 | 31 | 33 | 2 | 0 | 10 |
| St. Thomas | 1 | 2 | 0 | 63 | 53 | 10 | 1 | 0 | 5 |
| Lamar | 1 | 2 | 0 | 61 | 97 | -36 | 1 | 0 | 5 |
| Kingwood/Lake Houston | 0 | 3 | 0 | 18 | 86 | -68 | 0 | 0 | 0 |