ARCA Coach Profile - Paule Barford of Cornell
ARCA Coach Profile - Paule Barford of Cornell
After a surprising turnaround last year that saw them improve from 0-6 in 2012 to 6-0 in 2013, expectations for Cornell were lowered this year due to the graduation of some experienced players.
However, after a shaky start that saw the Big Red lose their first two games, Cornell finished the 2014 Ivy League season winning five in a row to finish 2nd. Goff Rugby Report looked in on Head Coach Paule Barford, who helped engineer a second-straight surprisingly solid season.
Barford, like many coaches around the country, is registered with the American Rugby Coaches Association website and supports what the ARCA program is doing trying to develop coaches, and thus reach more players around the country.
"It is always good when rugby coaches get together over coffee," said Barford. "We never get to do that, so sharing ideas and using that to be better coaches and develop more players is something the game needs. We used to say, if you've got 20 coaches in a room and you make only one of them a better coach, you can be reaching 50 players who are going to be better."
But, added Barford, ongoing education, such as with the ARCA, is important.
"You do one clinic and the problem is, one they leave the clinic you have no idea if they are going to implement what they've learned back at their club."
Barford has been implementing plenty. He wasn't hugely optimistic about his team's prospects and big losses to Dartmouth and Columbia perhaps harbingered a long fall. But then they turned it around.
"We had a lot of injuries early," said Barford. "I wanted to put them in hard games in the beginning but we paid for it a bit. By Dartmouth we were just getting back some of our injured players. Columbia I think was an aberration. We got our players back, got fitter, and were off and running."
Barford says he doesn't do anything special with his team; it's the players that do the work. But once pressed his acknowledges he might have something to do with his team's success. 
"I approach rugby using the old French method," he explained. "This is the ball, get the ball over that line, now have at it. Then we slow add in more of the rules. They learn very fast, and having them play a proper game as often as possible, I think, helps teams be successful. Six or seven games is not a season."
Barford teams also get the set piece right.
"I make sure we have a very strong platform in the scrum," said Barford. "Most of the Ivy League teams would say we've got the strongest scrum in the Ivy League. We're good at defensive scrums. We've got a good linoeut, and we try to take as much of the opposition ball away, which limits their attack. We play good defense, and anything on top of that I consider gravy."
Cornell runs a few set attacking plays and, said Barford, the team scores about 80% when they execute them.
"Our problem was we were so used to playing on a muddy field, we didn't know if our team was fast or if we could score a lot," said the coach. "Then when we played Harvard on a dry field the players were so ecstatic they ran amok. Still, if you do the basics well you win games. The players sometimes want to fling it about but I tell them, 'winning's more fun than losing.'"
Fancy comes with time - although he likes to shake it up in practice quite a bit - and in the fall Ivy League season there isn't much time. But that doesn't mean you rush it, said Barford.
"We start off every season very simply and we expand within that system," he explained. "We would have a two-pod system of four forwards and four forwards. Once we got that down and we're comfortable winning ball that way, we stay in groups of four but split those groups to two and two - a runner and a clearer. You expand once the players are competent and confident in what they're doing. To me, retention of the ball in contact is the most important thing."
For Cornell, scrumhalf Jon Furman broke his nose and was out for a while, and senior Dave Chaverra stepped in and played well. Chaverra will graduate in the spring and  in fact Furman will not only get his position back, but will likely captain the team. Flyhalf Jack Tregurtha is emergingg as a solid flyhalf. Up front, Pumba Venosa is a versatile prop or hooker, and former football player Jeff Kruse has embraced the game.
The Cornell squad is deep, and should be good next year, too. But it all starts with the right approach - nothing too fancy, embrace games as training, and don't be afraid to be French.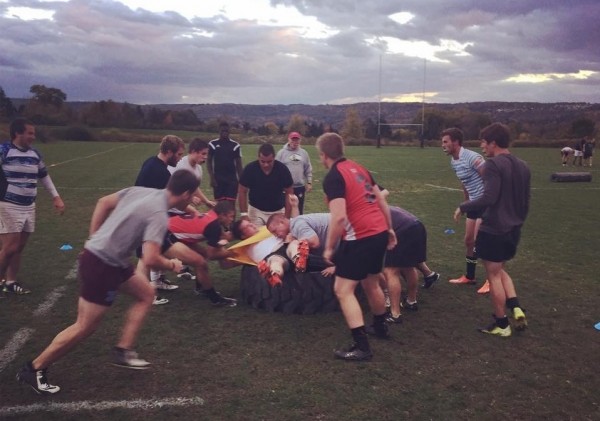 Using a tractor tire to shake up the ruck practice is part of Barford's MO.