Aircraft Charter Solutions PoW - Brian Nault
Aircraft Charter Solutions PoW - Brian Nault
Running around and through, Brian Nault was a power for the HSAA team. David Barpal photo. (And who's that guy in the background watching him run?)
The moment came after Brian Nault scored a try against Upright Rugby Rogues in pool play at the HS Elite 7s at the LVI. The Shelton, Wash. 15s loose forward and 7s prop had scored an uncharacteristic try for the HS All Americans, bursting down the sidelines like a wing after being set up nicely by his teammates.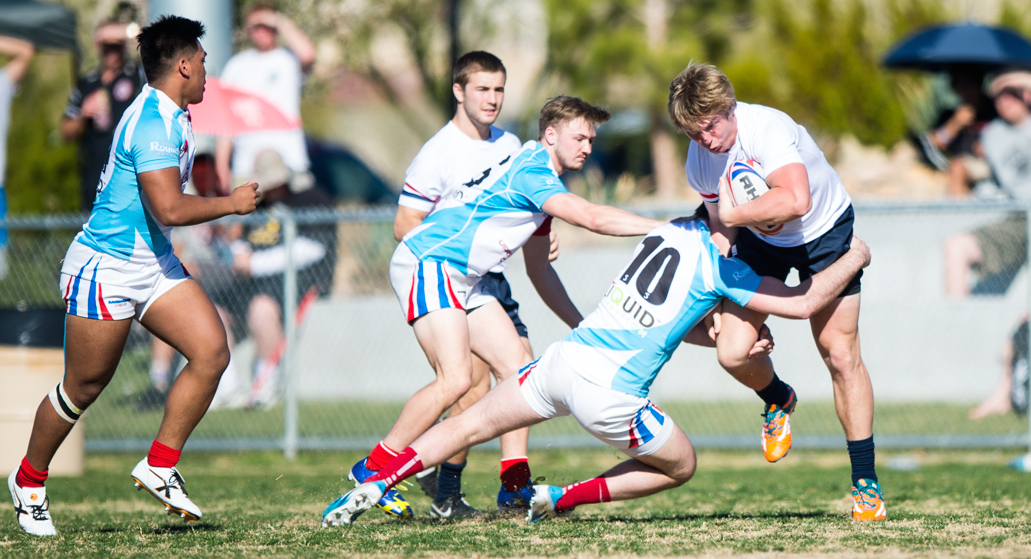 Nault scored, and was hit late by a chasing player. The two stood, face-to-face, and Nault turned and walked away. The Upright player, not being upright at all, tapped Nault on the backside and knocked the ball out of Nault's hands - a provocative gesture designed to create a confrontation. Nault ust kept walking.
And that's Brian Nault in a nutshell. The powerfully-built big man, Nault is the unselfish foundation of Shetlon, the Washington Loggers, and the HS All Americans. He does the dirty work. He cleans out in rucks. He tackles. He secures possession. And every once in a while, as he did against Upright twice, he ends up on the wing and can score the try for you, too.
"It's kind of weird, you think the big guy should ave to do the work to get through the tackles," said Nault after one of his on-the-wing tries and after Aaron Matthews, one of the true HSAA speedsters, had scored by busting up the middle. "It was really good team play on both parts."
Nault cleans up a lot of messes, and said his team needed to not panic, slow down, and relax. They did that, for the most part, and their response against Upright on the second day showed the difference - 22-12 on Friday, and 36-0 on Saturday.
"This competition is good, it's good," he said. "It keeps us on our toes, that's for sure."
Through the weekend, and before, when the Washington Loggers were probably the best select side in the summer, Nault was a huge part of his team's success. He's not the tallest, certainly not the fastest, but he might be the strongest player on the team, and certainly the most resolute. He's our Aircraft Solutions Player of the Week because American Rugby survives on players like Brian Nault.