Aircraft Charter Solutions PoW - Brian Hannon
Aircraft Charter Solutions PoW - Brian Hannon
Hannon on his way. Steve Lagorio photo.
We have documented the story of Royal Irish Rugby's difficulties in getting to the Boys HS National Championship final, their battle to win the game, and what they went through to get there.
So we've talked about grit and guts and defense. Let's talk about something else - specifically some moments of special skills.
With his team down 8-0, Royal Irish and HS All American flyhalf Brian Hannon called for the ball just a couple of yards from the Granite Bay line.
"I saw they had two guys on that side so I figured we could turn that into a two-on-one," he said. But then as he called for the ball, the Grizzlies sent another defender to that side. Hannon, ball in hand, had to make a quick decision. "I just decided to take them on and barely got the ball down."
This is classic player talking down his accomplishment. Here's the GIF of the try. Hannon, the flyhalf, engages three players, and as he is being shoved into touch, reaches around and gets the ball down. His awareness of his body and where he is on the field, and what he needs to do to score are all very impressive.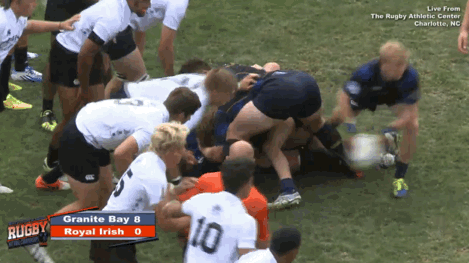 That try put the game at 8-7. Moments later, Hannon put his side on top. This time, he spotted a fractured Granite Bay defensive line, and just took the option. He cut through a gap through three players, changed direction, and threw a sidestep that eluded two other players. It was a moment of great confidence, pace, balance, and skill.
"I've been to the HS All American winter camp for four years, now, and working with Salty Thompson as well as Scott Peterson with Royal Irish has helped me recognize those chances," said Hannon. "And playing 7s has helped me in my open-field running, too. That's what that was. When you go to the high performance camps and the EIRA camps, things just start to slow down for you. You learn when to quickly recognize that it's time to poach or counter-ruck, and when you take your chances. We wanted to do that against Granite Bay, move fast, keep the game going fast, and keep them on their heels."
Hannon was very complimentary of how his team battled through to win this year's national final, mentioning center Kyle Hoeper, who, he said, "makes such nice, clean tackles." 
But he saves his kindest words for the program as a whole. About to graduate from Bishop Chatard HS in Indianapolis and attend the University of Arizona where he will be playing rugby, he has a chance to look back.
"It's been an amazing opportunity to play for the Royal Irish; this team has been a great brotherhood," said Hannon "I started playing my freshman year and we won the national championship. That year we were stacked. From that point on we have set a national championships as the goal we want every year. The Gonzaga game at the beginning of the season set the standard for this ear. It was unfortunate that we couldn't get games in before them because of the weather but it really tested us. We lost in a close game and it left a dirty taste of defeat with us and we didn't want to let it happen again."
Well that says it all. Brian Hannon is out Aircraft Charter Solutions Player of the Week.