Week 8 GRR Boys HS Club Rankings
HS Rugby Players—Get Noticed!
Put your player info into our Player Recruiting Data Base. It's free, and it exposes you to college, academy, and select-side coaches and uses the power of Goff Rugby Report to get your name out there.
Week 8 GRR Boys HS Club Rankings
The Charlotte Tigers backline is a potent one. Dennis Yancey photo.
So a new #1 again. The Charlotte Tigers were hugely impressive in the Carolina Ruggerfest; it's not just them winning, it's how they are winning with shutouts.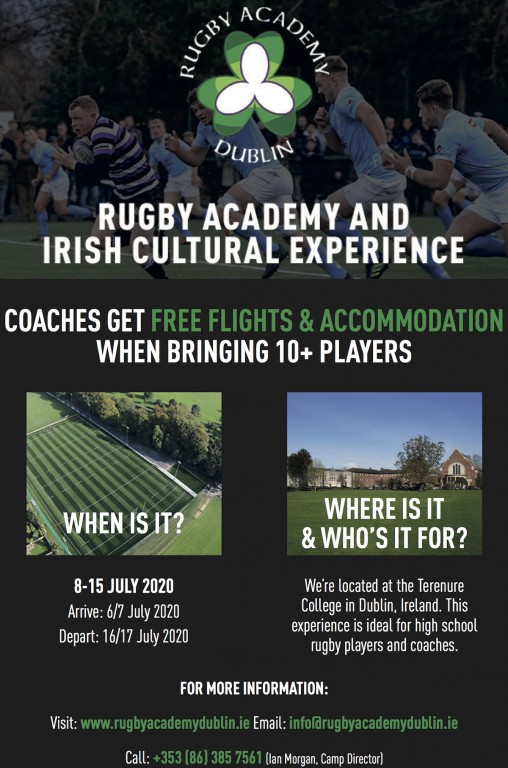 We have moved up United, and moved Genesis into the Top 50 because of their results at the Ra Puriri Invitational, which we didn't incorporate last week. That's our fault, but we've corrected it.
So while they didn't play this week, those teams move up. 
The Raleigh Redhawks move up dramatically after beating Gonzaga.
Raleigh Redhawks Shock Gonzaga
SFGG beats Marin and moves up 14 spots.
Tight NorCal Premier Ready To Heat Up
Another team that did well at Carolina Ruggerfest is Clayton, and we've been waiting on them to log those results.
And Aspetuck jumps ten spots after some impressive wins (two shutouts), and we'll keep an eye on them.
We welcome Rugby Academy Dublin, a residential summer rugby camp based in Ireland, as a sponsor of our High School Rankings. 
Click on the ad image for more details, and when you sign up, please list Goff Rugby Report as your referring coach. 
So ... click, read, and if you like the idea, go there and say Goff Rugby Report sent you.
Goff Rugby Report Boys HS Club Rankings Week 8

Rank
Prev
Team
Notes
1
2
Charlotte Tigers (NC)
Beat Badger Academy, Hudson, Neuqua (SS28)
2
1
Back Bay (CA)
Beat Badger Academy, Hudson, Neuqua (SS28)
3
3
Royal Irish (IN)
Beat St. Edward (SS9)
4
5
Woodlands (TX)
 
5
20
Raleigh Redhawks (NC)
Beat Gonzaga (SS4)
6
6
Belmont Shore (CA)
 
7
7
Danville Oaks (CA)
Beat Lamorinda (33)
8
22
United (UT)
See notes above
9
19
Aspetuck (CT)
Beat West End (16), Berks (24)
10
4
Fort Hunt (VA)
Lost to Xavier (SS6)
11
9
West Valley Warriors (UT)
 
12
11
Germantown (TN)
Beat KC Jr. Blues (16), lost to St. Thomas Aquinas (SS18)
13
12
Tempe (AZ)
Beat Blackbirds
14
13
Red Mountain (AZ)
 
15
29
SFGG (CA)
Beat Marin (10)
16
15
Phoenix Alpharetta (GA)
Beat Hudson 2, Raleigh, Tigers North
17
27
Clayton (NC)
Beat S. Greenville (32), West Carroll, Salesianum
18
18
Allen (TX)
 
19
25
Bayou Hurricanes (LA)
Beat Jesuit NOLA 
20
21
Okapi (FL)
Beat Boynton
21
24
Berks (PA)
Beat West End (17), lost to Aspetuck (19)
22
8
Eastside Lions (WA)
Chuckanut
23
23
Jacksonville (FL)
 
24
10
Marin (CA)
Lost to SFGG (29)
25
16
Kansas City Jr. Blues (MO)
Lost to Penn (SS7), Germantown (11)
Goff Rugby Report Boys HS Club Rankings Week 8

26
Unr
Genesis (UT)
 
27
17
West End (VA)
Lost to Berks (24), Aspetuck (19)
28
28
Rock Rugby (TX)
Lost to Lake Travis (SS30)
29
30
Edina (MN)
 
30
31
Cape Pirates Black (FL)
 
31
32
S. Greenville (SC)
Beat West Carroll, lost to Clayton (27), Salesianum
32
36
Tacoma (WA)
Beat Rainier
33
37
Liberty (WA)
Beat Kitsap
34
35
PAC (CO)
Lost to East HS (SS15)
35
50
West Shore (PA)
Beat Bishop Shanahan (SS27)
36
14
San Diego Mustangs (CA)
 
37
38
Fairfield (CT)
 
38
39
Pulaski (WI)
 
39
33
Lamorinda (CA)
Lost to Danville (7)
40
34
Menlo-Atherton (CA)
 
41
40
Chargers (WI)
 
42
41
Mother Lode (CA)
Beat Granite Bay
43
42
Roswell (GA)
 
44
43
Eastside Tsunami Pink (OR)
 
45
44
Eastside Tsunami Black (OR)
 
46
45
Harpeth (TN)
 
47
46
MICR (TN)
 
48
47
Ravenwood (TN)
 
49
48
Union Co. (NJ)
 
50
49
Eagan (MN)
 
Goff Rugby Report Boys HS Club Rankings Week 8