UNC-Charlotte Takes Citadel 7s
UNC-Charlotte Takes Citadel 7s
The UNC-Charlotte team won a big tournament victory Saturday.
Sixteen teams competed at The Citadel in Charleston, SC Saturday, each with eyes on earning points in the Southern Conference Sevens Series.
UNC Wilmington, Furman, UNC Charlotte, and The Citadel emerged victorious from their respective pools to advance to the Cup Semifinals. The Citadel would go on to defeat UNCW and UNCC defeated Furman.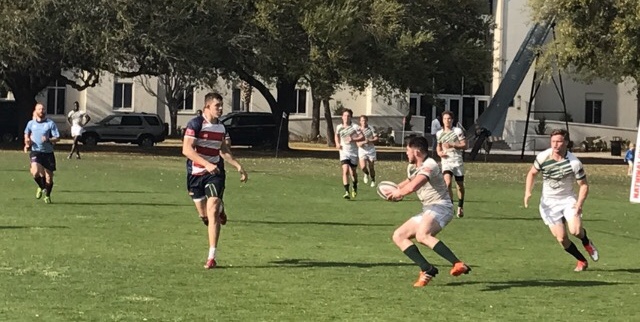 UNCC and The Citadel faced off in the Cup Final in a match that showcased solid defensive play from both sides. The Citadel started off the match with a mistake costing them a yellow card, but was able to keep Charlotte from scoring during that time. Just before halftime, UNCC found the try zone for the first score of the match. The second half saw one score apiece from both sides resulting in a cup win for UNCC.
"We have a diverse team," said Declan Tidd, UNCC's captain and scrumhalf, "We have a couple of burners on the outside who are really speedy, but we also have really physical guys in the middle of the pitch. But we also have what Coach Bo calls 'cerebral' guys out there with a lot of experience, so having that kind of mix of experience, speed, and power really helped us." 
But Tidd wasn't completely satisfied with their performance Saturday. "We had some messy ball in the scrums. We had a lot of drops especially in those first few matches when the field was kind of wet and made everything slick. That might be something we need to focus on going into next tournament."
The next Southern Conference tournament will be played at Wake Forest on March 18. The first three events will help seed for the final championship tournament, the winner of which gets an automatic bid to USA Rugby's DII 7s Nationals.
- Article and action photo by Thomas LaMuraglia